Background
The mission of the U.S. Postal Service (USPS) is to provide the American public with trusted, affordable, and universal service while recognizing the Postal Service's critical role in U.S. commerce. As part of its international mail services, the USPS has processed over half a million international shipment inquiries and claims over the past four years. Users have the option of filing their claims by calling the USPS Customer Care Center or by using the International Claims self-service online option.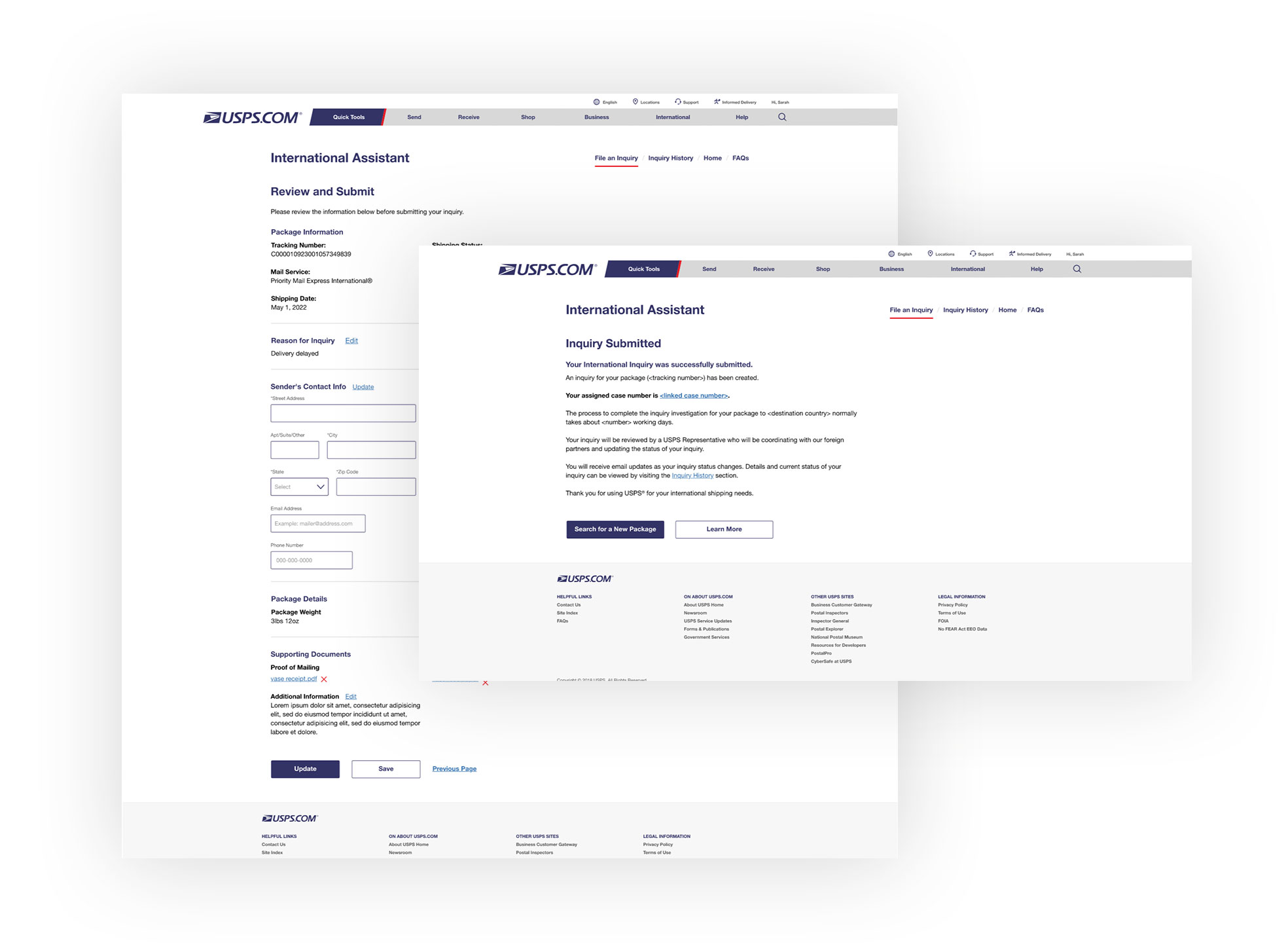 The Challenge
Of these half a million international inquiries and claims, two thirds were handled by call center agents at the Customer Care Center despite the availability of an online claims filing option. As a result, international inquiries and claims are driving down the USPS' overall customer experience (CX) while also limiting the USPS' ability to decrease operating costs.
USPS international claims business owners contracted with OPTiMO to redesign and simplify their current international claims online filing tool to drive improved user experience, increase usage of self-service, and decrease Customer Care Center calls and those related operating expenses.
The Solution
OPTiMO took a tailored, human-centered, iterative solutioning approach, planning 10 two-week sprints with the goal of delivering a finalized requirements package, including feature-level user stories and clickable prototypes to demonstrate the features and functionality of the new tool.
During each sprint, our team conducted requirements elicitation sessions with USPS business customers to fully uncover business needs and transfer knowledge of previous usability studies conducted on the existing solution prior to engagement. Leveraging existing personas and building upon prior research, we also engaged client stakeholders in design thinking sessions for creative problem solving to formulate a variety of ideas that could potentially address project goals and previously identified issues facing the user.
Utilizing our valuable baseline of knowledge, OPTiMO applied our user-experience/user-centered design and development expertise to ideate and propose design options that enabled a more seamless, transparent, and frictionless online international inquiry and claims experience. Making extensive use of established 18F methods (a collection of tools focused on executing a human-centered design approach), we focused on executing our comprehensive and proven Decide, Make, and Validate methods.
OPTiMO has embedded proven, stringent quality practices in every phase of our design and development process, ensuring elegant, scalable, highly effective solutions every time.
We generated design hypotheses to address the user needs and goals as well as created and leveraged personas, journey mapping, and user scenarios to validate and further refine potential solutions throughout each sprint. Our team created and maintained an Adobe XD design library throughout the project to enable us to comply with the USPS Digital Style Guide as well as rapidly develop high fidelity clickable prototypes to facilitate internal and business discussions.
OPTiMO utilized an Agile methodology to ensure a systematic approach to iteratively solving problems and building upon the prior sprint. To eliminate risks that a design decision could negatively impact the fully finished product, we incorporated small-scale, sprint-based usability testing to validate feature-level design decisions early in the process.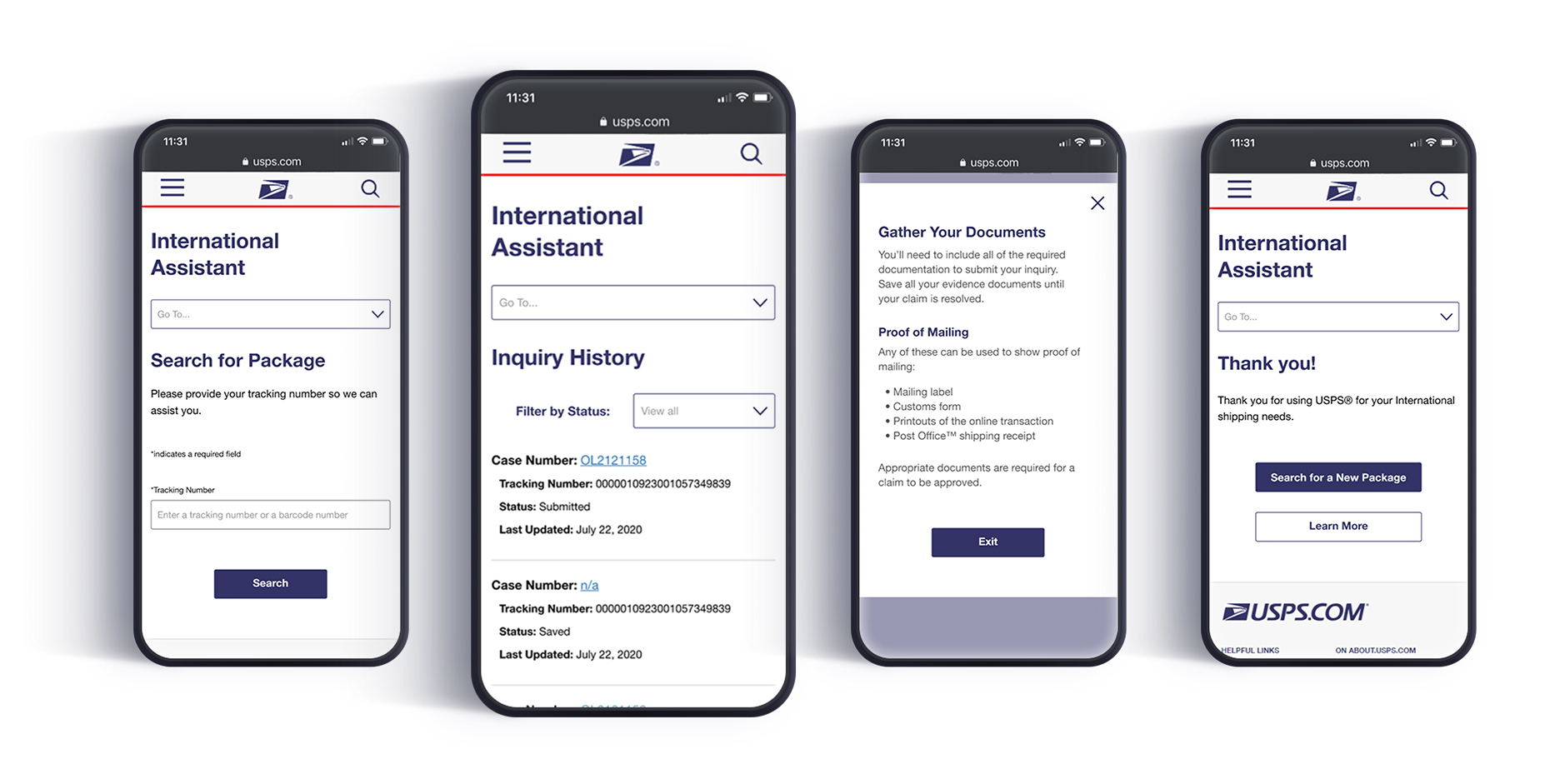 The Impact:
OPTiMO's innovative solution to increase usage of the USPS' online tool for international inquiries and claims combines a customer's previously untapped shipment data with their answers to a few qualifying questions to intelligently predict the customer's situation.
By progressively informing and querying users only when information is required or not available from back-end partner systems, the user receives a simplified customer  experience and their overall level of effort decreases as their satisfaction increases.
Finally, by increasing the percentage of self-service online inquiries, call center operating expenses are expected to decrease in excess of $800K per fiscal year within 18-months of launching the new International Assistant online filing tool.