Contract Vehicles
OPTiMO Information Technology offers our services through multiple government contract vehicles.  We work with our government acquisition partners to provide greater flexibility and options for services through these vehicles.

GSA MAS
GSA Multi Award Schedule (MAS) Contract Vehicle
Contract Type: Multiple Award Schedule (MAS)
Contract Number: 47QTCA18D00JU
UEI – L84KVPFHUG9
CAGE Code: 51VEO
Period of Performance: August 31, 2018 – August 30, 2023
GSA eLibrary Link – OPTiMO IT – GSA eLibrary Information
Program Description:
Buying through MAS Information Technology shortens procurement cycles, ensures compliance, and delivers the best value on over 7.5 million innovative IT products, services, and solutions from over 4,600 pre-vetted vendors.
Benefits: Federal, state, and local governments can count on the industry partners on MAS Information Technology to offer innovative information technology products, services, and solutions at the best prices.
MAS Information Technology Offers:
Wide variety of products and services
Competitive prices and discounts
Maximum order threshold
Flexible contracting and streamlined ordering
Security solutions
Approved Agreements – End-User Licensing Agreement (EULA)/Commercial Supplier Agreement (CSA)
For additional information, or if you would be interested in using this GWAC Vehicle please contact us.
GSA STARS III  
8(a) STARS III Best in Class (BIC) Governmentwide Acquisition Contract (GWAC) Contract Vehicle *New topic area
Contract Number:  47QTCB22D0226
GSA STARS III Website: www.gsa.gov/s3
Program Description: The Best-in-Class 8(a) STARS III GWAC is a small business set-aside contract that provides flexible access to customized IT solutions. This fourth generation GWAC focuses on customer programming services, computer systems design, computer facilities management, other computer-related services, data processing, hosting and related services, and emerging technologies. The ceiling for this Government-wide Acquisition Contract is $50 billion.
The 8(a) STARS III GWAC Offers:
Expansion of capabilities for emerging technologies,
Features limited protestability up to $10M
Expert guidance from the GSA team, including free scope review services and market research
Pre-competed, multiple award contracts
Much shortened procurement lead time
Socioeconomic credit through FPDS-NG reporting
Customer-focused staff with expertise in small business technology contracts
For additional information, or if you would be interested in using this vehicle, please contact us.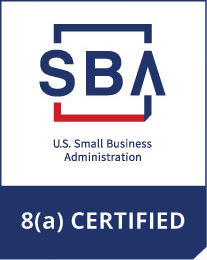 SBA Certified 8(a) Small, Disadvantaged Business
The Small Business Administration's (SBA) 8a small business development program has recognized OPTiMO as an SBA Certified 8(a) small business contractor, allowing it to support US Federal Agencies through direct contract awards and utilizing various contract vehicles it holds. Through our participation in this program, OPTiMO is entitled to receive set aside and sole-source contracts to provide federal agencies with management consulting and IT solutions rapidly, and easily.
What is an SBA Certified 8(a) small business contractor?
The SBA's 8(a) small business development program offers small, disadvantaged businesses a wide range of assistance to help them compete in the marketplace and gain traction in federal government contracting. The focus of the program is to provide business development support, including procurement assistance, mentoring, business counseling, financial assistance, and training to help small businesses participate in competitive acquisitions. 8(a) small businesses can receive set aside or sole-source contracts, as well as form joint ventures and teams to serve federal agencies under larger prime contracts. Participants in the program go through a four-year developmental stage and a five-year transition phase throughout the nine-year course of the program.